Get a 25% Off FiiT promo code with Monzo Plus
Bring the gym to your home. Get a 25% one-off discount with an exclusive FiiT discount code with Monzo Plus.
Available for both new and existing FiiT customers. A 3 month minimum term to Monzo Plus applies.
Here's how you can claim your discount
You can get your FiiT promo code in 3 simple steps:
Sign up to Monzo Plus
Activate your Monzo Plus account for just £5/month (Please note: there's a 3 month minimum term and a cancellation fee may apply).
Get your voucher code in the app
Find the offers tab in the app and select FiiT to get your exclusive discount code.
Add the voucher at checkout
Add the code to your FiiT membership and get 25% off! (Please note: this is a one-off discount)
Welcome to Monzo Plus
Monzo Plus gives you exclusive discounts to Naked Wines, Patch, FiiT and more for just £5/month.
You can also get powerful budgeting tools, virtual cards, and 1.00% (AER/Gross variable) interest on your savings.
A 3 month minimum term to Monzo Plus is required. Terms and conditions apply.
What is FiiT?
FiiT brings the gym to your home. You can take gym classes on your own or with friends with 40+ group classes scheduled every day for more motivation and accountability.
Choose from a range of HIIT, strength training, or mobility workouts that run for 10, 25, and 40 minutes.
You can also track your progress with 2, 4, 6 and 10 week training plans tailored to your goal and level.
Pick an account
We're making money work for everyone, so we have different accounts for different needs.

With savings, borrowing and overdrafts
Your money is protected by the FSCS
Your eligible deposits are protected by the FSCS up to a value of £85,000 per person
Fee-free UK bank transfers
Send money to any UK bank for free
Pots for separating money
Put money aside from your balance
Through the app, if you need it
See when, where and how you spend
Get a clear view of your spending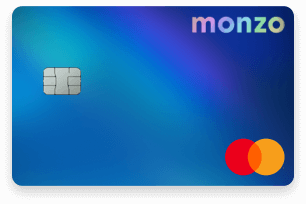 See your other accounts in Monzo
1.00% AER/Gross (variable) interest up to £2,000
On your current account and regular Pots (including Instant Access Savings Pots, but not Pots from partner banks)
Plus, divide payments into multiple categories.
Avoid using your physical card online
Make your spare change go further
See how your credit score changes
15% off Patch and many more
Fee-free withdrawals abroad
Up to £400 free every 30 days
Live updates to Google Sheets
1 free cash deposit a month
At PayPoints across the UK
Not sure what to pick?
Compare each account to find the right one for you