Bright banking
The bank account that works hard for you and your money. Join the millions of people already banking with Monzo.
Everything you'd expect from your bank, on your phone
An award-winning UK current account in an easy to use app. Complete with a Hot Coral debit card, help when you need it and FSCS protection for eligible deposits up to £85,000 per person.
A clear view
See a true reflection of your money at all times, and we'll tell you about important things as they happen with handy notifications.
What you just bought, where you bought it and for how much, before the receipts even printed. We'll ping you about other important activity too, so you're always in the know.
We automatically sort your payments into categories so you can see what you're spending on each month.
Keep track of your regular payments
We'll let you know if a Direct Debit or standing order's going to be more or less expensive than last time, the day before the money's due to come out.
Money, managed
Finally, you're in control – free to manage your income, spending and savings however it suits you.
Pots for setting money aside
Places to grow your savings or keep money separate from what you're happy to spend.
Automatically sort your income
Once you're paid, automatically move your money to different Pots – letting you set aside savings, bills money, money for a rainy day or whatever you like. All without the manual work.
Clever ways to manage your bills
Keep what you need for bills in a Pot. When the bill's due, we'll pay it from your Pot automatically.
Make life easier
Move money around without the hassle (or a calculator), all in an award-winning app.
Forget sort codes and account numbers. Pay someone in a few taps, or share a link if they're not on Monzo for hassle-free payments.
Having dinner with friends? Pay for everyone and then split the bill after. We divide up who owes what so you don't have to do the maths.
Going on holiday or just looking for a way to track who owes what in a shared house? Add payments to your shared tab so you can settle up as you go, or at some point in the future.

With savings, borrowing and overdrafts
Your money is protected by the FSCS
Your eligible deposits are protected by the FSCS up to a value of £85,000 per person
4.00% AER interest (variable)
On balances up to £100,000 in a Personal Instant Access Savings Pot, paid monthly
Fee-free UK bank transfers
Send money to any UK bank for free
Pots for separating money
Put money aside from your balance
Through the app, if you need it
See when, where and how you spend
Get a clear view of your spending
Monzo Plus
£5 per month
Must be over 18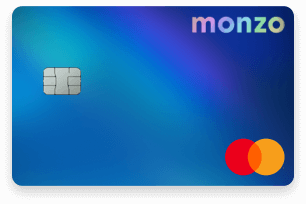 See your other accounts in Monzo
4.50% AER interest (variable)
On balances up to £100,000 in a Personal Instant Access Savings Pot, paid monthly
Plus, divide payments into multiple categories
Avoid using your physical card online
Make your spare change go further
See how your credit score changes
15% off Patch and many more
Fee-free withdrawals abroad
Up to £400 free every 30 days
Live updates to Google Sheets
1 free cash deposit a month
At PayPoints across the UK
Exclusive to Monzo Premium
Covers loss, damage, theft, and cracks. Exclusions apply
Worldwide travel insurance
Cover for you and your family when travelling together. Exclusions apply
4.50% AER interest (variable)
On balances up to £100,000 in a Personal Instant Access Savings Pot, paid monthly
Get discounted access to over 1,100 airport lounges
You and guests can travel in style
Fee-free withdrawals abroad
5 free cash deposits a month
At PayPoints across the UK
Not sure what to pick?
Compare each account to find the right one for you
Easy current account switching
With the Current Account Switch Service, you can move everything over to Monzo in 7 days without lifting a finger. We do everything for you, and you don't need to deal with your old bank at all.