Monzo and IFTTT
Connect your financial life to the rest of your life with Monzo and IFTTT.
Infinite possibilities
Create your own custom Applets to automate things like saving money and filing expenses. Or enable some great pre-made ones.
Get inspired ›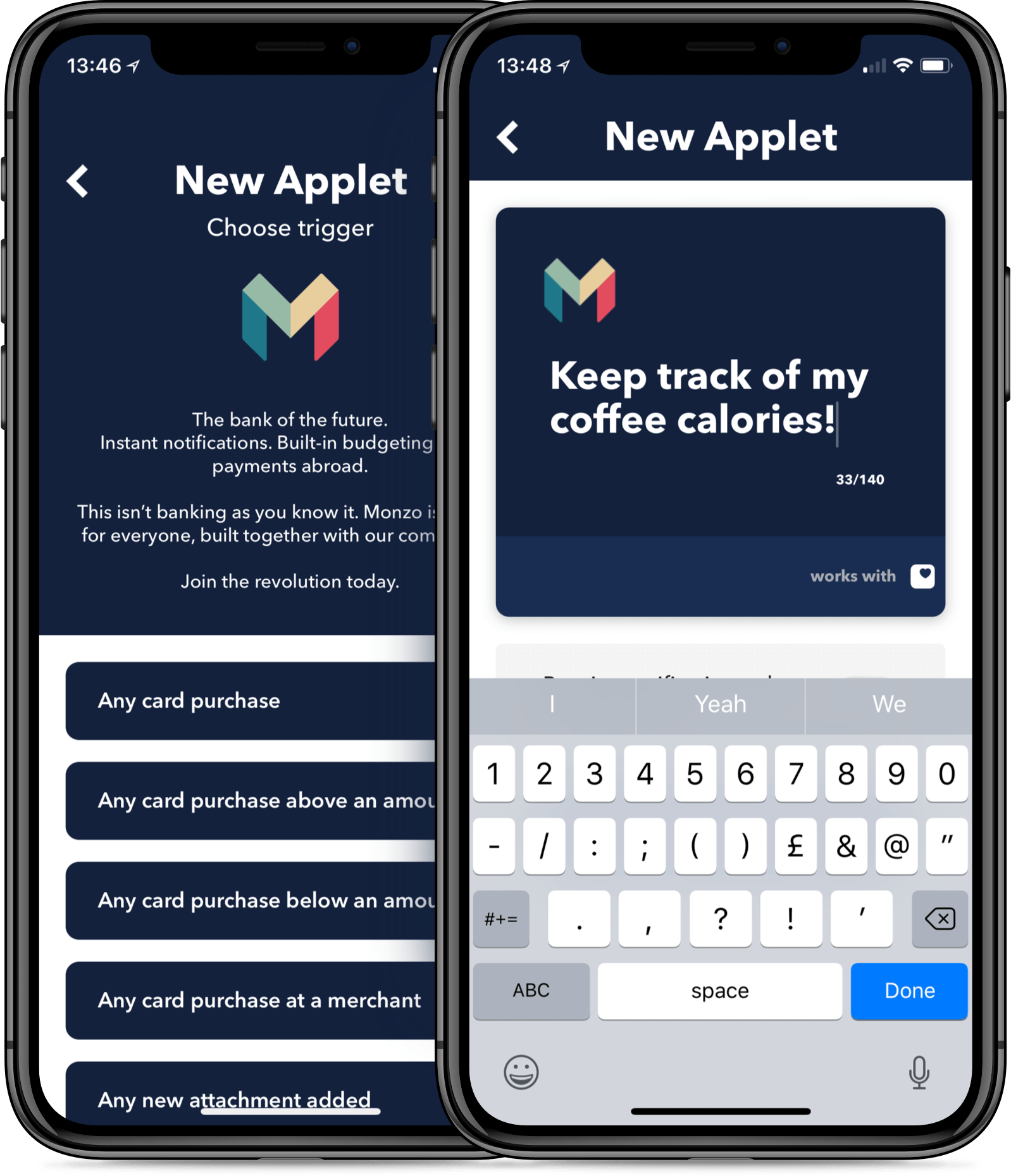 Join the discussion
We're building Monzo with our community. Get inspiration and support, show off your Applets, and give us feedback on what you'd like to see.
Show off your Applets on the Community
What can I do with IFTTT?
IFTTT is a service that lets you connect all sorts of internet services together in useful and fun ways.
Here's some examples of things you can do really easily with Monzo and IFTTT.
"When I attach a receipt to a transaction, forward the receipt to my expenses provider"
"Every Monday, pay me an allowance of £100 from my Student Loan pot"
"Whenever I ask Google Assistant to "Save £5", move that amount into my Savings pot"
"Save my receipts to Dropbox"
"Log a record of all my spending in a Google Sheet"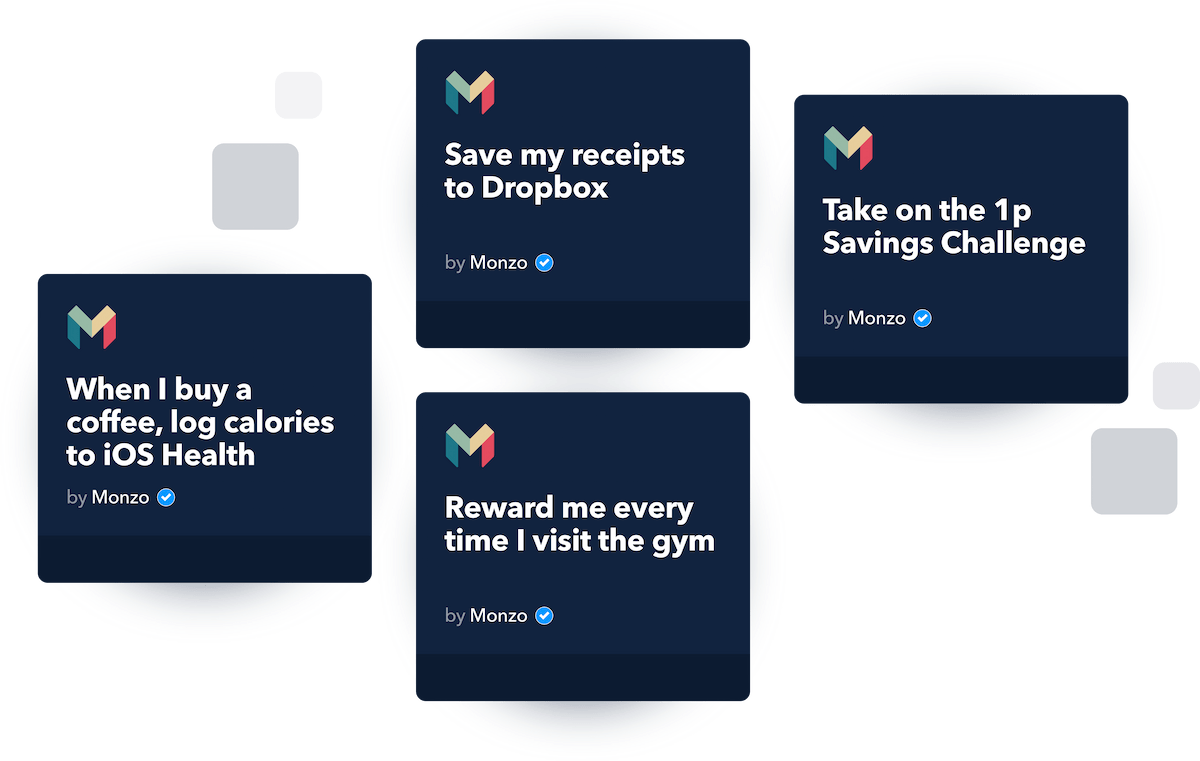 How does IFTTT work?

IFTTT is an automation platform that connects to the services you use every day. On IFTTT, you can build your own automations called Applets.

An "Applet" is a rule you create by combining two services together 🔗. It consists of a "trigger" and an "action". A trigger is an event that happens to set off your Applet, like tweeting or making a purchase on your Monzo card. An action is something you would like to happen as a result of the trigger, like moving money into a pot.
What triggers does Monzo support?

Right now, Monzo supports five triggers.

Any card purchase
Any card purchase at a merchant of your choice
Any card purchase below an amount of your choice, optionally at a specific merchant
Any card purchase above an amount of your choice, optionally at a specific merchant
Any receipt uploaded
What actions does Monzo support?

Right now, Monzo supports two actions.

Move money into a pot
Move money out of a pot

In the near future, we would like to explore...

Add notes to a transaction
Upload a receipt to a transaction
Change the category of a transaction
Unfreeze card
Freeze a card
Move money into my Joint Account
Does it cost any money?

IFTTT is free to use. Neither IFTTT nor Monzo will charge you for using this integration.
Is my information safe with IFTTT?

Yes. Monzo and IFTTT take your security and privacy seriously. IFTTT do not receive any of your personal information except your name, and information relating to triggers such as your transactions and attachments.

IFTTT use your information in line with their privacy notice, which you can read here.

You can export your data from IFTTT, or ask IFTTT to delete your data, at any time. For more information please click here.
How do I get support?

The quickest and easiest way to get support on setting up Applets is by posting in our dedicated support thread on the Community Forums.

Our friendly in-app customer support are also available to help if you're having trouble connecting your Monzo account to IFTTT, but they aren't able to help set up Applets.