Monzo Current Accounts
Get Monzo, our full UK current account with no monthly fees. Open your account for free from your mobile phone in minutes.
Or try Monzo Plus, our account that gives you more visibility and control over your money plus much more for £5 a month.
We're fully authorised and regulated by the FCA, and your money with us is protected up to £85,000 by the FSCS.
Packed with the best of Monzo
A UK current account
Protection for your money
A new way to bank
Friendly support
Loans and overdrafts
Interest on your savings
Monzo
With savings, borrowing and overdrafts

Your eligible deposits are protected by the FSCS up to a value of £85,000 per person

Send money to any UK bank for free

Put money aside from your balance

Through the app, if you need it

See when, where and how you spend

Get a clear view of your spending
Monzo Plus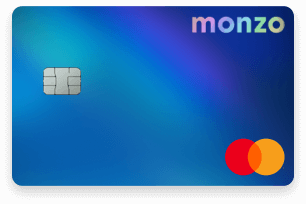 See your other accounts in Monzo

On your balance and regular Pots

Plus, divide payments into multiple categories.

Avoid using your physical card online

Make your spare change go further

See how your credit score changes

15% off Patch and many more

Up to £400 free every 30 days

Live updates to Google Sheets

At PayPoints across the UK
Not sure what to pick?
Compare each account to find the right one for you
A flexible overdraft, if you want it
If you're eligible, you can switch on an overdraft in the app any time. Don't want an arranged overdraft? No problem, you don't have to have one.
Easy payments and transfers
Set up Direct Debits and standing orders in-app, and send money to any other UK bank account instantly.
Pay with Apple and Google Pay
Make payments on the go with Apple Pay or Google Pay.
An award-winning app, plus Mastercard debit card
Manage your spending, savings and bills through the Monzo app. Spend and withdraw money anywhere around the world that accepts Mastercard with a (very beautiful) hot coral debit card.
Human help, when you really need it
We don't have any physical branches, but we've got answers to most of your questions and problems in the app – so you don't have to wait for help.
You can also speak to real friendly humans over live chat through the Monzo app. We're here 24/7 for emergencies, and from 8am to 7pm for anything else.
Pay money into your Monzo Current Account by cash and cheque
Easy current account switching
With the Current Account Switch Service, you can move everything over to Monzo in 7 days without lifting a finger. We do everything for you, and you don't need to deal with your old bank at all.
Open a Monzo account in minutes
And join the 4 million people who've already changed the way they bank.