We're now offering loans.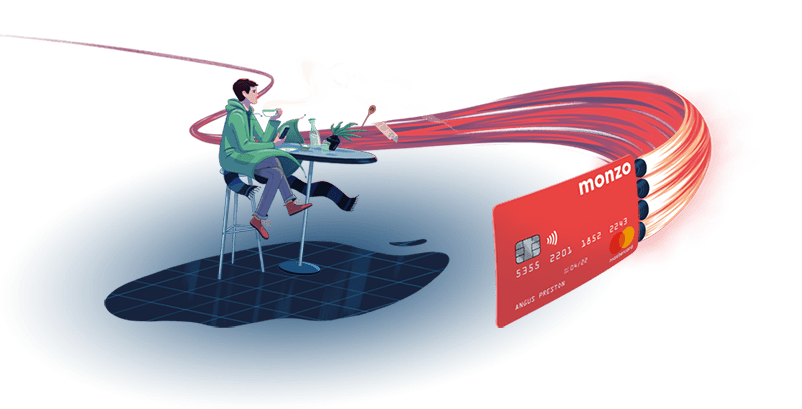 55,000 people open a Monzo account every week
Clever budgeting. Easy travel. Interest on your savings. And human help, whenever you need it.
Manage your money
Set spending budgets
Set monthly budgets for spending on things like groceries and going out.
See an easy summary
See an overview of your account any time, sorted by what you spend on, with notifications if you're spending too fast.
Get instant notifications
Get a notification the moment you use your card, before the receipt finishes printing.
Travel stress-free
Use your card anywhere
Monzo works all around the world, and you don't need to tell us if you're going away.
Take out cash
Withdraw up to £200 abroad every 30 days for free (there's a 3% charge after that).
Spend for free
We don't add any fees or charges for spending with your card, and we don't mark up the exchange rate.
Make the most of your money
Earn money on your money
We've teamed up with some other providers to give you up to 1.81% interest on your savings.
Set cash aside in Pots
Saving for something special? Want your bills separate from your spending money? Divide your money up into different Pots, however you like.
Save effortlessly
Save your spare change into a Pot automatically. Watch the pennies turn into pounds without lifting a finger.
A way for you to add extra features to your Monzo account and make your finances stress-free.
It's hassle-free and could save you money on your bills. Plus you'll get up to £75 credit when you switch.
Bring your money together. Pool your resources with someone to make life easier to manage.
Big nights out. Holidays. Household bills.
A bit of a nightmare to split the cost for – that's where Shared Tabs come in.
Earn up to 1.81% (AER, variable) interest on your balance with a Savings Pot. The Savings Marketplace lets you pick from different types of products with competitive rates.
Fair, flexible overdrafts if you need a little extra to tide you over every now and then.
Pay on your phone with Monzo
Make payments on the go with Apple Pay or Google Pay. Setting up couldn't be easier - just go to the Account tab in your Monzo app.
Send money easily
Pay people in seconds
Send bank transfers that arrive instantly, and pay nearby friends over Bluetooth without needing to know their details.
Set up Direct Debits and standing orders
Manage recurring payments from your app.
Send money abroad
Send money internationally from your Monzo app for up to 8x cheaper than with high street banks, powered by TransferWise.
Keep your money safe
Stay in control
If you lose your card, freeze it in the app and get a new one the next day. (Or defrost it if you find it again.)
Rest easy
We're part of the FSCS, so your money is protected up to £85,000.
The Monzo Current Account
A full UK bank account that you can open from your phone in minutes.
The Current Account Switch Service makes it simple, reliable and hassle-free to switch from one UK bank to another.
Straightforward payments
Set up Direct Debits and standing orders in-app, and send money to any other UK bank account instantly.
If you're eligible, you can switch on an overdraft in the app any time. Don't want an overdraft? No problem, you don't have to have one.
Every Monzo account is protected by the Financial Services Compensation Scheme (FSCS), so your money is safe up to £85,000 no matter what happens.
Human help, whenever you need it
We might be a bank in an app, but we're always here to help. Every customer gets access to 24/7 customer support through the app — just send us a chat message and we'll get back to you ASAP.
Not into chat? Email or call us at any time.
We're building Monzo together
We're doing things differently. For too long, banking has been harder than it needs to be.
We want to change that and build a bank with everyone, for everyone. Join our amazing community of users and suggest features, give feedback and help us test the app, so together we can build something we all love.
Help us build the kind of bank you want to use